I started making these meatballs a few years ago and have not used another meatball recipe since. I prefer these without sauce and Phillip likes his with the marinara... I typically make meatball subs and sauce his up and leave mine and the kids plain.
1

pound extra lean ground beef
1

small onion, diced ( I hate the texture of onions so I use 1 tsp onion powder)
1 1/2

teaspoons Italian seasoning
1

dash hot pepper sauce (such as Frank's RedHot®), or to taste
1 1/2

tablespoons Worcestershire sauce
1/4

cup grated Parmesan cheese
1/2

cup seasoned bread crumbs
Preheat an oven to 400 degrees F (200 degrees C).
Place the beef into a mixing bowl, and season with salt, onion, garlic salt, Italian seasoning, hot pepper sauce, and Worcestershire sauce; mix well.
Add the milk, Parmesan cheese, and bread crumbs.
Mix until evenly blended, then form into 1 1/2-inch meatballs, and place onto a baking sheet.
Bake in the preheated oven until no longer pink in the center, 20 to 25 minutes.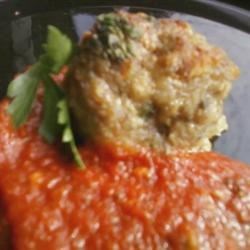 Before putting in the oven I also like to grate parmesean over the top of the meatballs for a little extra flavor.
Toast some french bread with butter and garlic, slap on some meatballs, and cheese and you have a sandwhich that you will fall in love with!