This soup was pretty good however I am not the type of person who is just absolutely in love with CNS. It is ok but I never crave it... my kids call it chicken noodle booger soup. Now if you know me you know that I did NOT put boogers in my soup (the family that I took this too for dinner tonight is grateful for that ;-) ) you also know I have two little boys and when they first saw the celery in it they apparently thought it looked like boogers and this somehow convinced them to eat it.
4 cups chicken broth
dash of black pepper
1 carrot
1 stalk celery
1/2 cup egg noodles
1 cup chicken
1/2 tsp onion powder
1/2 tsp garlic salt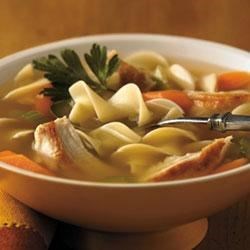 Mix broth, black pepper, carrot and celery in saucepan.

Heat to a boil.

Stir in noodles and chicken.

Cook over medium heat 10 minutes until noodles are done.
http://allrecipes.com/Recipe/Sensational-Chicken-Noodle-Soup/Detail.aspx?event8=1&prop24=SR_Thumb&e11=chicken%20noodle%20soup&e8=Quick%20Search&event10=1&e7=Home%20Page