Since we will be out of the country on my Nathan's 6th birthday we had his party yesterday. He had insisted that the cake be chocolate (which was perfectly fine with me) so I found this recipe and everyone really seemed to like it!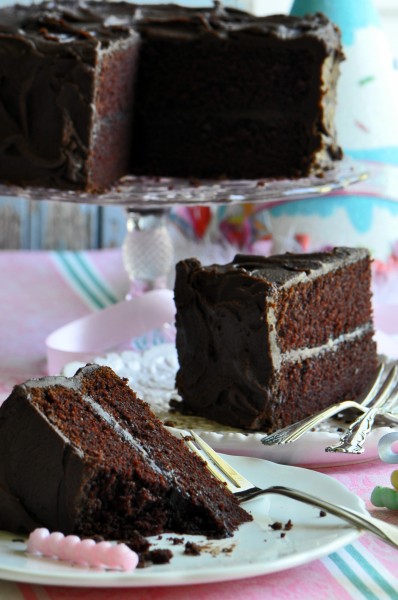 3 ounces unsweetened chocolate
1/2 cup (1 stick) unsalted butter, softened to room temperature
2 cups sugar
2 large eggs, room temperature
1 teaspoon vanilla extract
1/2 cup buttermilk (I used regular milk)
2 cups all-purpose flour
2 teaspoons baking soda
1 teaspoon salt
1 cup boiling water
Grease and flour two 9-inch layer cake pans and line with parchment paper rounds.
Preheat oven to 350˚F.
Place the chocolate in a microwave safe bowl and microwave in 30 second intervals until melted, stirring in between intervals – approximately 1 1/2 – 2 minutes.
Set aside.
In the bowl of an electric mixer, cream the butter and sugar until light and fluffy.
Add eggs, one at a time, beating after each addition.
Mix in vanilla and melted chocolate, beating until smooth.
Add the buttermilk, flour, soda, and salt.
Mix until incorporated.
Add boiling water and beat smooth. (Batter will be thin.)
Divide batter evenly between the two cake pans.
Bake in the middle of the oven for 25 to 30 minutes or until a cake tester inserted into the center of the layers comes out clean.
Do not over bake or the cake will be dry.
Remove to cooling racks and cool for 10 minutes.
Run a knife around the edge of the cakes and invert onto the cooling racks.
Cool completely.
At this stage the layers can be wrapped tightly and stored at room temperature overnight or frozen for up to a month.
She used a different frosting recipe than I typically do and personally I really like mine and it seemed easier so I just used it! I will post the recipe for that later today...
http://www.siftingfocus.com/2012/04/chocolate-fudge-birthday-cake-baking-recipe/