These were amazing! I doubled most of the spices but left the paprika alone and that was perfect. Anymore spice and it would have been overpowering. My kids especially Nathan LOVED these and kept going back for more.
1 teaspoon
vegetable oil, or as needed
2 tablespoons
freshly grated Parmesan cheese ( I doubled)
1/2 teaspoon

salt

(I doubled)
1/2 teaspoon

garlic powder

(I doubled)
1/2teaspoon

paprika
1/4 teaspoon
ground black pepper (I doubled)
2 pounds
red potatoes, halved
1 tablespoon
vegetable oil, or as needed
cooking spray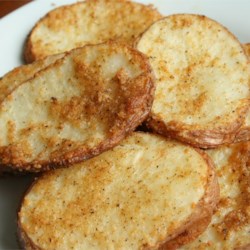 Preheat oven to 400 degrees F (200 degrees C).
Spray a 9x13-inch baking pan or cast iron skillet with cooking spray; pour in about 1 teaspoon vegetable oil to coat the bottom.
Mix Parmesan cheese, salt, garlic powder, paprika, and black pepper together in a bowl.
Blot the cut-side of potatoes with a paper towel to remove any moisture.
Place potatoes in a bowl and drizzle with 1 tablespoon vegetable oil.
Toss until potatoes are lightly coated.
Sprinkle potatoes with Parmesan cheese mixture.
Toss to coat.
Arrange potatoes, cut-side down, onto the prepared baking pan.
Bake in the preheated oven for 15 to 20 minutes.
Turn potatoes to cut-side up; continue baking until golden and crispy, about 15 to 20 more minutes.
http://allrecipes.com/Recipe/Oven-Roasted-Parmesan-Potatoes/Detail.aspx?event8=1&prop24=SR_Thumb&e11=roasted%20potatoes&e8=Quick%20Search&event10=1&e7=Home%20Page