My favorite cereal is Cinnamon Toast Crunch (we don't eat cereal often in our house) so when I saw a recipe for CTC cupcakes I decided to give it a try. I used my vanilla cake recipe and added a little cinnamon and then whipped up some icing and we have a winner!
Cake
1
cup white sugar
1/2

cup butter
2

teaspoons vanilla extract
1 1/2

cups all-purpose flour
1 3/4

teaspoons baking powder
Preheat oven to 350 degrees F (175 degrees C).
Grease and flour a 9x9 inch pan or line a muffin pan with paper liners.
In a medium bowl, cream together the sugar and butter.
Beat in the eggs, one at a time, then stir in the vanilla.
Combine flour, baking powder, and cinnamon add to the creamed mixture and mix well.
Finally stir in the milk until batter is smooth.
Pour or spoon batter into the prepared pan.
For cupcakes, bake 20 to 25 minutes.
Cake is done when it springs back to the touch.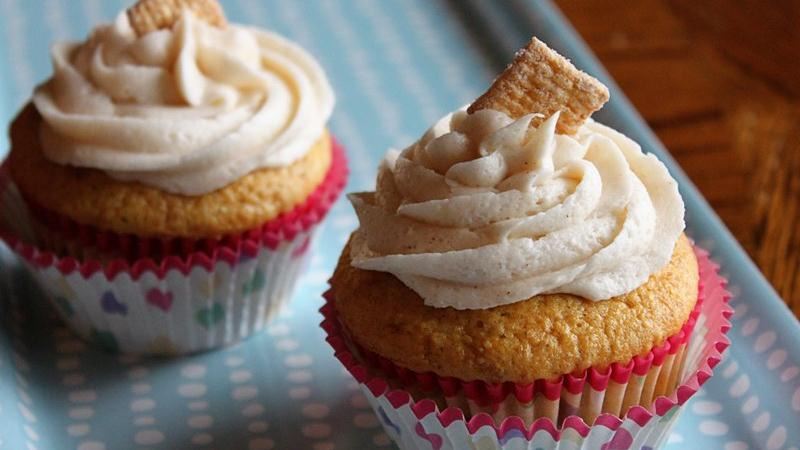 Frosting
1/3

cup butter, softened
3 cups powdered sugar
3 tablespoons milk
1 teaspoon vanilla
1/4 teaspoon ground cinnamon
Garnish, if desired
24 pieces Frosted Toast Crunch™ cereal
In medium bowl, beat butter and powdered sugar with electric mixer on low speed until combined.
Beat in milk, 1 teaspoon vanilla and 1/4 teaspoon cinnamon on medium speed until fluffy.
Pipe or spread frosting on cupcakes.
Garnish each cupcake with 1 cereal piece.