Ever since we have been married (7 years) hubby has been hinting about twice a year that I make monkey bread. Up until now I haven't done it mainly because I thought it would be time consuming, this recipe was easy to throw together and took almost no time at all.
The only thing I would do different is to make my biscuits homemade next time.
All of the kids (and hubby) loved it and asked why I hadn't made it before. About half of it got eaten at breakfast and the other half was gone by the end of the day. I would be sitting on the couch in the living room and would see a little hand reach up on the kitchen counter grab a piece of Monkey Bread and quickly run out of the room! The funny thing is that they were trying so hard to be sneaky about it even though I wouldn't care that they had any.
3 (12 ounce) packages
refrigerated biscuit dough
2 teaspoons ground cinnamon
1/2 cup
chopped walnuts
(optional)
1/2 cup
raisins (I didn't add raisins just a personal preference)
Preheat oven to 350 degrees F (175 degrees C). Grease one 9 or 10 inch Bundt® pan.
Mix white sugar and cinnamon in a plastic bag.
Cut biscuits into quarters.
Shake 6 to 8 biscuit pieces in the sugar cinnamon mix.
Arrange pieces in the bottom of the prepared pan.
Continue until all biscuits are coated and placed in pan. (When I got them all in there I poured the extra cinnamon and sugar over the biscuits and then I banged the pan against the counter to get it to settle in)
If using nuts and raisins, arrange them in and among the biscuit pieces as you go along.
In a small saucepan, melt the margarine with the brown sugar over medium heat.
Pour over the biscuits. (I banged it on the counter again)
Bake at 350 degrees F (175 degrees C) for 35 minutes. (Mine took closer to 45 before it wasn't doughy)
Let bread cool in pan for 10 minutes, then turn out onto a plate.
Do not cut! The bread just pulls apart.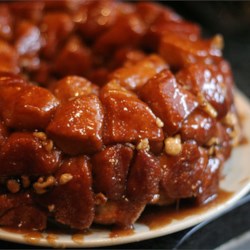 http://allrecipes.com/Recipe/Monkey-Bread-I/Detail.aspx?event8=1&prop24=SR_Thumb&e11=monkey%20bread&e8=Quick%20Search&event10=1&e7=Home%20Page