This dish was amazing and while it is not a true "shepherds pie" (I used beef not lamb) it is so good. Everyone loved it, this dish was wonderful it had a little bit of a tang to it that made it even tastier. I hope that you love this dish as much as we do, it is perfect for a cold winter night.
1 tablespoon
vegetable oil
1
onion, chopped (I used 1 tsp onion powder)
2 cloves
garlic, minced (I used 2 tsp garlic powder)
1 teaspoon
dried rosemary
4 teaspoons
all-purpose flour
1/4 cup
Heinz Tomato Ketchup (I used tomato sauce)
3/4 cup
Heinz® Tomato Juice (I used tomato sauce)
2 tablespoons
Heinz Worcestershire Sauce
2 tablespoons
Dijon mustard
1 cup
frozen mixed vegetables (such as peas and carrots) (I used corn, I had an open bag)
3 cups
cooked, warm, mashed potatoes
1 clove
garlic, minced (I used 3 tsp garlic salt and 2 tsp onion powder)
Heat oil in a skillet set over medium heat.

Add the onion, garlic, thyme, rosemary, and half of the salt and pepper.

Cook, stirring often, for 5 to 7 minutes.

Preheat the oven to 350 F (180 C).

Crumble meat into pan and cook until brown all over.

Sprinkle with flour.

Stir in ketchup, tomato juice, Worcestershire sauce and mustard.

Simmer for 5 minutes.

Stir in mixed vegetables.

Transfer to a 9-inch (23-cm) baking dish.

Whip the potatoes with the warm milk, remaining salt and pepper, butter and garlic until very fluffy.

Spread potatoes evenly over meat mixture.

Bake for 35 minutes or until potatoes are golden.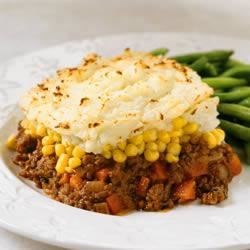 http://allrecipes.com/Recipe/Classic-Shepherds-Pie/Detail.aspx?event8=1&prop24=SR_Thumb&e11=shepherds%20pie&e8=Quick%20Search&event10=1&e7=Home%20Page