I made these for breakfast this morning and to take to Life Group. My oldest son ate 4 and asked for more!!!
2 cups all purpose flour
1 tsp baking powder
1/2 tsp baking soda
1/2 tsp salt
1/2 cup butter
1/2 cup brown sugar
1/2 cup white sugar
1 tsp cinnamon
2 eggs
2 tsp vanilla
1 cup chopped apples (small pieces)
1/2 cup shredded apple
1/3 cup brown sugar (packed)
1 tb flour
1/8 tsp cinnamon
1 tb butter (melted)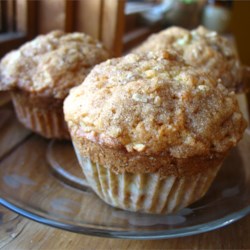 Preheat oven to 375 degrees F (190 degrees C).
Grease a 12 cup muffin pan.
In a medium bowl, mix flour, baking powder, baking soda, salt and cinnamon.
In a large bowl, beat together butter, sugars and eggs until smooth.
Mix in vanilla.
Stir in apples, and gradually blend in the flour mixture.
Spoon the mixture into the prepared muffin pan.
In a small bowl, mix brown sugar, flour and cinnamon.
Cut in butter until mixture is like coarse crumbs.
(I used melted butter)
Sprinkle over tops of mixture in muffin pan.
Bake 20 minutes in the preheated oven, or until a toothpick inserted in the center of a muffin comes out clean.
Allow to sit 5 minutes before removing muffins from pan.
Cool on a wire rack.