All the kids gobbled this down, so much so that I wasn't even able to get a plate for myself, I personally can't comment on the taste but the kiddos seemed to like it. :-)
Biscuits:
2 cups all purpose flour
4 tsp baking powder
3 tsp sugar
1/2 tsp salt
1/2 cup shortening
1 egg
2/3 cup milk
In a small bowl, combine the flour, baking powder, sugar and salt.
Cut in shortening until the mixture resembles coarse crumbs.
Beat egg with milk; stir into dry ingredients just until moistened.
Turn onto a well-floured surface; knead 20 times.
Roll to 3/4-in. thickness; cut with a floured 2-1/2-in. biscuit cutter.
Place on a lightly greased baking sheet. Bake at 450 degrees F for 8-10 minutes or until golden brown.
Serve warm.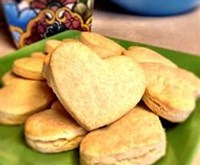 Gravy:
1/2 lb sausage
1 tb butter
3 tb flour
1 3/4 cup milk
1/8 tsp salt
1/2 tsp pepper
Meanwhile, in a saucepan, cook the sausage over medium heat until no longer pink.
Stir in butter until melted.
Sprinkle with flour.
Gradually stir in milk, salt and pepper.
Bring to a boil; cook and stir for 2 minutes.
Serve over biscuits.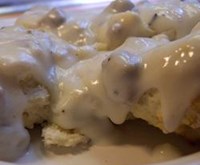 allrecipes.com