I pinned this recipe onto my Yummy board on Pintrest a while back and finally got around to making it and I have to say... This dish is amazingly delicious. It was like having heaven on your plate, everyone in our family loved it and asked for more. This is also a dish that you can prepare earlier in the day and then just pop in the oven when it is time to finish up dinner. We hope you enjoy it as much as our family did!
1

lb

of

boneless

,

skinless

chicken breast
1

ball

of

fresh

mozzarella (I just used shredded mozzarella)
2

tablespoons

of

balsamic vinegar
1

tablespoon

of

dried basil
1

teaspoon

of

dried parsley
2 1/2
teaspoons
italian seasoning
1/2
teaspoon
onion powder
1/2
cup
plain

breadcrumbs
1

egg

beaten

with

1

tablespoon

of

water
Preheat oven to 400 degrees.
Grease a 8×8 casserole dish and set aside.
Combine the Italian seasoning, garlic powder, salt, pepper, onion powder, and breadcrumbs in a bowl.
Dip each piece of chicken in the egg / water mixture, then dip each piece of chicken in the seasoning mixture and be sure to coat each breast well.
Place chicken in the casserole dish you set aside.
Bake at 400 degrees for 25 minutes.
Remove the chicken and turn the oven to broil.
Remove the chicken and put on a piece of tin foil.
Top the chicken with the sliced tomatoes, fresh mozzarella, and balsamic vinegar.
Place back in the oven for an additional 3-5 minutes until the cheese is melted.
Remove from the oven and then sprinkle with the basil and parsley.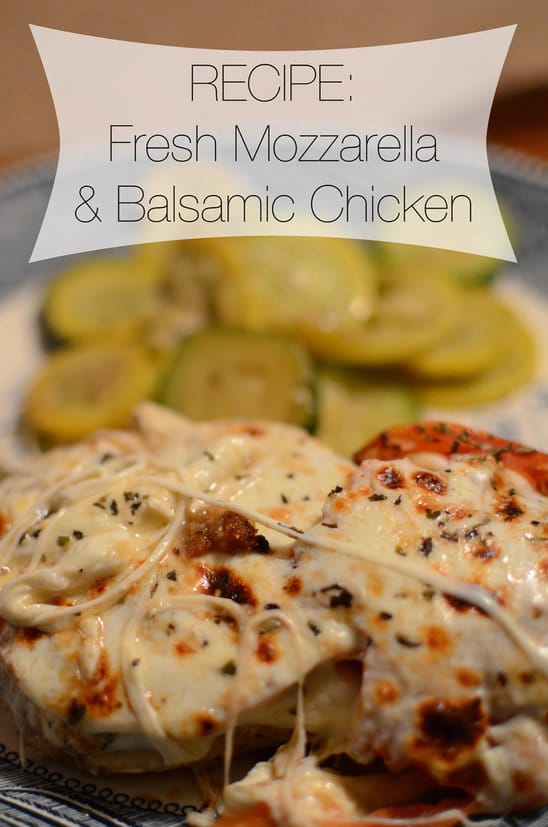 (I forgot to snap a picture, this is the one from the original recipe)
http://stlcooks.com/2014/01/fresh-mozzarella-and-balsamic-chicken/